Category Archives: Adventure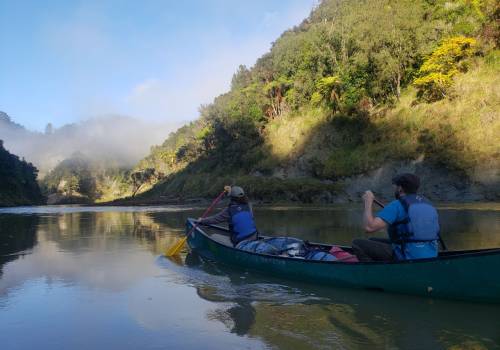 Discover our top choices for the Best Canoe Trips across New Zealand
Know More
SIMPLY SENSATIONAL. Just completed the 3 day trip. Our guides Wilson and Gregor were fantastic. Cool, clear, calm (even when I tipped the wife out of our canoe). Always felt safe, always felt informed. The food was sensational. From the time we were greeted to the time we departed, I was very...
Warren J, Christchurch, NZ
peaceful, primal, professional, Challenging, adrenalin - I experienced all of these on a three day trip down the Whanganui river with a group of 18 people and two amazing guides - Simon and Aiden. These guys worked tirelessly to ensure we were kept safe and well fed and were happy to share their...
Michele Laurie
A couple of good mates decided we'd do this trip some time ago and Canoe Safari's helped make it happen. Alex, Bailey, Lesley and Canon our guides / hosts were absolutely amazing. Scenery was stunning - seems like little has changed on the landscape in hundreds of years... still...
Hawkdwn
We were part of a group of 8 friends doing the 3 day trip with Phil and Wai as guides. They were both terrific and very organised. Phil is excellent explaining how to manoeuvre through the rapids and the safety control was first class.
52Diane
This was the best family trip ever! Three course meals, a wealth of knowledge from our awesome guides, and no devices, were just three reasons we would highly recommend this adventure. Phil and Simon were amazing guides and worked from the moment we were collected for our trip to the moment we...
Richard Beechey
We did the 5 day, fully guided and catered river journey, with our four children and three other families. This was truly one of the best holidays we have ever had. Phil and Ian, our guides, organised every detail. It was enormous fun canoeing down the river, jumping off rocks and canyoning. We...
Sarah Scott-Brown
We did a family 4 day guided canoe trip, it was absolutely amazing. Very professional, our guides Morgan and Aiden were very knowledgeable and friendly. The food was way above expectation and the memories we have made will be with us forever. Highly recommend.
Leeann Morgan
This was out and out one of the best experiences I've ever had. The trip exceeded my expectations in every department. The hospitality was second to none and the care taken for all of us was outstanding. Safety was never forgotten and was balanced with a load of fun and great humour...
Simon Christie
Did the 3-day guided canoe trip down the Whanganui river with Phil and Simon as our guides. Even though all of us were first-time canoeists and a few of us were non-swimmers, they looked after us very well and were amazing at teaching us the skills we needed to keep ourselves safe. The...
Mark Loh
We went on the four day canoe safari and absolutely loved it! Amazing scenery, and great service. Aidan and Morgan really went the extra mile to make sure everyone was happy and comfortable. Food was just like the comforts of home! We were very well looked after, and felt safe on the...
Nicola Johansen
Read More