3-Day Whanganui River Journey Guided Tour
(90km) If you have only 3 days but still want to relax or if you feel nervous, this Whanganui River journey guided tour is for you. Our Voyager canoes are 6 seater craft so the guide can navigate the river and control the canoe for you.
DEPARTURE: Whakahoro
DIFFICULTY LEVEL: Safe and Fun
DATES: Depart Fridays & Saturdays (October to May) Plus extra dates over school holidays and peak periods
(90km) If you have only 3 days but still want to relax then this is the trip for you.
We've had two six person open canoes built to offer three day Whanganui trips in fully guided canoes. These canoes are based on the early Voyageur canoes from the fur trading days in Canada. Comfort on this trip is a priority and it is the little extras that we've added that will make the trip unforgettable.
The trip includes excellent 3 course meals, bottled NZ wine, all camping equipment, one night at our pre-set campsite and one night at Bridge to Nowhere Lodge overlooking the river. Cruise in style in our Big Canoes.
Note - it is possible to book these canoes on our longer trips. They are ideal for family groups.
Trip Dates and Group Discounts: With a family of 2 adults and 3 children (14 and under) the third child pays 50% of the child rate. Group concessions are available.
*Trip start dates are a guideline only – with groups we can start a trip to suit you. We also run extra trips between Christmas and New Year and in early January.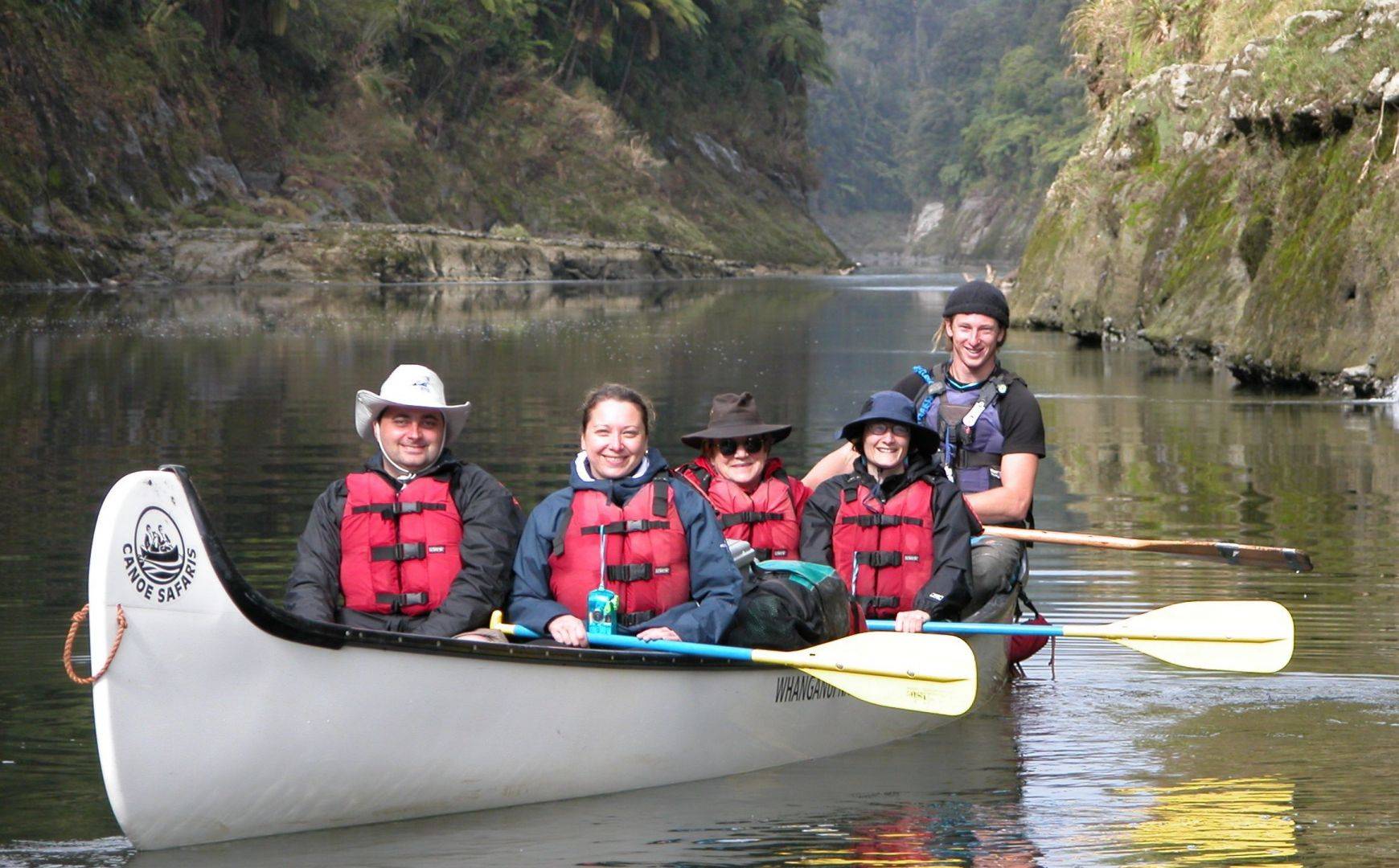 Day 01
We depart Ohakune between 7.30 and 8.00am for the river. At Whakahoro we unload canoes and barrels and show you how to pack your canoe. The gorge starts to narrow and we leave the last road access point behind at Whakahoro - the second and final mooring point for the Houseboat. We pass Laceys and Wades landings and several old maori Kaianga. There is plenty of time for stops along the way and there are many safe places to get out and swim. We camp at John Coull Hut and campsite


Day 02
Breakfast and on the river at 9am. A morning paddle past the Tangarakau and Whangamomona rivers, Mangawaiiti campsite, and Otumangu landing - one of the post WW1 faming settlements. Shortly afterwards we see the first pine trees since Whakahoro (planted by the early settlers), and we stop at the Mangapurua for lunch and a walk to the Bridge to Nowhere (45 min each way). After the walk there is time for a swim before we paddle the last 1.5hrs down to BTN cabins - lodge if spaces are available (please book early for a place in the lodge)

Day 03
We pass Kahura landing and one of the locations for the filming of "River Queen". It is an hours paddle through the steep gorge until the river cascades through Ngaporo rapid and down to Ngaporo campsite for a break. We paddle past the Mangaio stream and Mangaio rock where several of the early eyebolts can still be seen that were winching points for the riverboats. Next it's the Pururoto caves and then Autapu rapid. From Autapu there are several small rapids before the Paparoa rapids swings the canoes past the old eel traps and down to the landing at Pipiriki. After unloading boats and loading the trailer we have a quick stop in Pipiriki and a short one hour drive back to Ohakune.