Monthly Archives: November 2022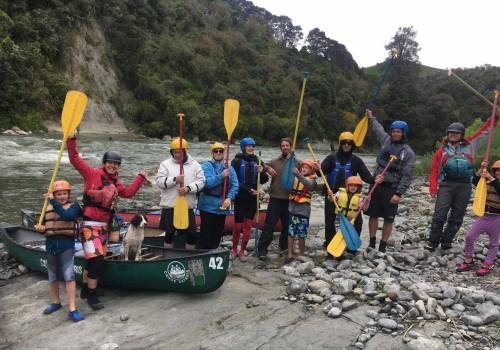 What's the difference between a kayak and a canoe? We discuss the key...
Know More
We had a magic 4 days on the Whanganui thanks to Kirsty Phil Keira and Jackson. The equipment, food, guiding and training were faultless. Phil's instruction was enough to make us confident on the river without overloading two novices and Keira's and Jackson's enthusiasm and...
Larry B, New Zealand
I would like to thank Mike, Stefan and Sophie for a great rafting experience on the Mohaka River. They were all such fun, very experienced and wonderful chefs too. Certainly a fantastic holiday and one to be recommended. So a big thank you for making it happen.
Sinda Hall
We went on the four day canoe safari and absolutely loved it! Amazing scenery, and great service. Aidan and Morgan really went the extra mile to make sure everyone was happy and comfortable. Food was just like the comforts of home! We were very well looked after, and felt safe on the...
Nicola Johansen
This was the best family trip ever! Three course meals, a wealth of knowledge from our awesome guides, and no devices, were just three reasons we would highly recommend this adventure. Phil and Simon were amazing guides and worked from the moment we were collected for our trip to the moment we...
Richard Beechey
This was out and out one of the best experiences I've ever had. The trip exceeded my expectations in every department. The hospitality was second to none and the care taken for all of us was outstanding. Safety was never forgotten and was balanced with a load of fun and great humour...
Simon Christie
Did the 3-day guided canoe trip down the Whanganui river with Phil and Simon as our guides. Even though all of us were first-time canoeists and a few of us were non-swimmers, they looked after us very well and were amazing at teaching us the skills we needed to keep ourselves safe. The...
Mark Loh
Had the most enjoyable trip in my life. Took the 4 day canoe safari down the Wanganui river. We thoroughly enjoyed it, couldn't have asked for better guides, Erin and Jordan. Their knowledge and expertise was invaluable. The scenery was out of this world, at times we felt as though no one...
Sharon Gamble
We did the 5 day, fully guided and catered river journey, with our four children and three other families. This was truly one of the best holidays we have ever had. Phil and Ian, our guides, organised every detail. It was enormous fun canoeing down the river, jumping off rocks and canyoning. We...
Sarah Scott-Brown
peaceful, primal, professional, Challenging, adrenalin - I experienced all of these on a three day trip down the Whanganui river with a group of 18 people and two amazing guides - Simon and Aiden. These guys worked tirelessly to ensure we were kept safe and well fed and were happy to share their...
Michele Laurie
A couple of good mates decided we'd do this trip some time ago and Canoe Safari's helped make it happen. Alex, Bailey, Lesley and Canon our guides / hosts were absolutely amazing. Scenery was stunning - seems like little has changed on the landscape in hundreds of years... still...
Hawkdwn
Read More